Post by jakaswanga on Jun 25, 2016 17:00:35 GMT 3
THE LUO NYANZA PIVOT BOOKS OPEN!
A fool and his money are soon parted they say.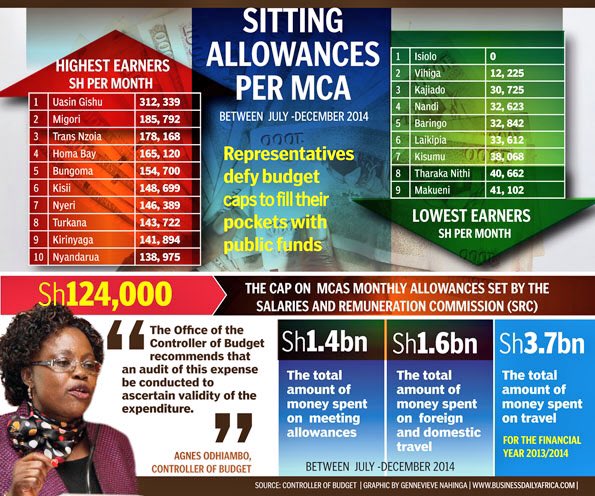 Considering the ease with which
Wanjiku is made light of her purse by public and state administrators
, she must be a powerful fool in deed. It is therefore wise to look out for possible remedials. This rate of graft is a one-way highway speed to bankruptcy. And political turmoil. Such a future can be arrested in time. That Vihiga honeymoon-maker could as well be a story from Luo Nyanza. It is not an isolated case, it is the general case.
www.nation.co.ke/news/Auditor-General-Report-Corruption-Counties/-/1056/2793126/-/x3o89b/-/index.html
www.huffingtonpost.com/the-conversation-africa/how-elites-and-corruption_b_10475774.html
europe.newsweek.com/kenya-stuck-corruption-rut-439905?rm=eu
The scale of Kenya's government corruption was exposed in a damning report by the country's auditor general, who revealed that about a quarter of Kenya's $16 billion state budget was missing. The lengthy report, which was released late Tuesday, also found that just 1 percent of Kenyan government spending was "incurred lawfully and in an effective way."

www.ibtimes.com/kenya-government-corruption-state-budget-missing-16b-1-percent-spending-lawful-2030056

Sixty percent of Kenyan government spending, about $5.9 billion or 600 billion Kenyan shillings, "had issues," Kenya's Auditor General Edward Ouko's office found, according to Agence France-Presse. Meanwhile, spending worth $4.43 billion, or 450 billion Kenyan shillings, was completely unaccounted for, according to Reuters. "These public funds may not have been utilized lawfully and in an effective manner," Ouko said in the report
.
Given these circumstances, can Wanjiku be foolish enough, professing sisterhood with the likes of Hilary Clinton –--
there is a special place in hell for women who do not stand with other women
, to declare she agrees the accounts of the wives of thieves be beyond audit, whilst the auditor general and budget comptroller report this intensity of ritual abuse and massive fraud (25-30% GDP?)?
This is what
lawyer Ojienda
is professing on behalf of
Dr. Susan Mboya Kidero
: there is
no linkage between the accounts of a wife and her husband
. They are married in
economic separation and independence
. Separation of accounts in a joint life is of course the rule (he he he) in Millionaresland, and it has it charms because divorce litigation can easily strip the richer party half-way.
But where one inhabits a bandit economy –--
a system whose political economy is nowadays what the Drosophila melanogaster fruit-fly is to a geneticist
---- Mr.&Mrs. can be a financially verily
conjoined organism
.
It would therefore be prudent, a matter of common sense in fact, to have it always thinkable that once this motion is passed, we will call it the
Susan Mboya amendment
, corrupt governors and other lootocrats of the Kenyan state will have a field day stashing public loot in their wives accounts without a care. Safe will be safe, thanks to the legal prowess of Ojienda, and, lest one forgets, the rot

in the judiciary of course.


What does the political economy of kleptocracy reveal in the laundering of loot?
Nigeria will help for the neutral look. Spouses are deeply in the mix. But first
Abuja Friday, January 29 2016
Former national security adviser to ex-president Goodluck Jonathan, Sambo Dasuki, is accused of having masterminded a $2 billion scam.

Nigeria's former Airforce chief of staff, Air Vice-Marshal Adesola Amosu, has been arrested by the country's anti-corruption Economic and Financial Crime Commission (EFCC) for alleged fraud.

The EFCC formally confirmed in a statement that Amosu was arrested on Wednesday night at 9 pm and has since been detained by the anti-graft agency.
Amosu is one of 21 former and serving military officers whom President Muhammadu Buhari has asked the EFCC to investigate.

The Nigerian Airforce personnel being investigated are expected to explain their involvement in $2 billion procurement deals that took place between 2014 and 2015.
The deals involved procurement of arms and fighter jets.
To launder and squander all that money requires an infrastructure,
a network
–-(in our case I think we highlighted right here on Jukwaa, how the
NYS heist included logistics from top lawyers
, accounting firms, bank managers, judges, police investigators from the baking fraud unit, super cabinet ministers) ---, and that is where the private and public associates of the thieves come into the radar. FRONTS!
Money can not disappear itself, much less spend itself! It always leaves a trail. To follow!
We are looking at FRONTS.
'fictitious constructions to hide theft
' Let us take a look at the Oga.
Front companies

Those being investigated include Air Chief Marshal Alex Badeh (rtd), whose sprawling mansions in Abuja and Kano have been sealed by the EFCC.

Others are Air Marshal M.D. Umar (rtd), Air Marshal A.N. Amosu (rtd), Maj-Gen. E.R. Chioba (rtd), Air Vice-Marshal I. A. Balogun (rtd), and Air Vice-Marshal A.G. Tsakr (rtd).

A number of companies which fronted for the generals are also being investigated.
Meanwhile, a media magnate, Mr Nduka Obaigbena, who has been on the run over his involvement in the sharing of money for the purchase of arms, has appeared 1before the EFCC
FRONT COMPANIES, FRONT PEOPLE, a battery of fronts, even FRONT SPOUSES AND WIVES!
Sitting on the boards of the front companies makes an exciting reading in closed class incest. And we must not forget daughters. Not just like Isabel Dos Santos, but less famous ones like Obasanjo's. Keeping it in a cycle like a
royal succession!
NB: In Kenya, SPONSORING a
mpango wa kando
is a n MCA status symbol which has come with the easy cash of devolution and state graft. A new social group of parasite women has come up known as
'sponcy's'
--escort or consort or plane old kept prostitute seems too tasteless for some reason!
2. The companies of
Josephine Kabura
–-of the NYS fame,
receiving close to a billion disburses two weeks into formation and before they delivered even horse dung
, are examples of fronts.
Ogola and Mujeera's 27M HongKong clothes spree
on behalf of
Ben Gethi
, is a front transaction. Money laudering by other words.
There is nothing ever complex in these things.
Complex is when the true industrial bourgeoisie have to run an industry on whale oil, and ships have to be fitted with wild crews captained by men like Captain Ahab, who have to go out and catch the whale and bring the fat home. Such men, of whom Moby Dick is a depiction, are so ruthless if a youngman spent company money on a fraudulent honeymoon abroad, they would kill him with his spouse as soon as he lands back. --it is important to know the difference in mental aptitude between men who parasite and those who work for the cost!
So mostly I look at Kenyan politicians and forgive. They are babies who have no idea of work. Working for a living. I thought being a soldier in the jungle was tough, until I tried my hand on an oil rig in the deep North sea during a summer holiday, working a 15-hour day through storms. When I arrived back on shore and a whiteman gave me spitting look, a colleague had to tap my hands with the sharp point of a knife because my fingers had sunk like claws into the man's throat and I was excavating his adam's apple. Then the experience folks all grinned at me: 'it is the wild sea gotten to your mind. Wild seas makes a man a beast.'
And there I was ever thinking it was the tropical jungle that did!
Let us now ride home:
Paul Ngei
–--Jomo
Kenyatta's
example to
Billy Kaggia
of a hard worker, would write all his properties in his wives names and have himself declared bankrupt.
When in 1966 Ngei was suspended as the minister in charge of the Maize Marketing Board on allegation that he was involved in smuggling, resulting in a shortage at the stores, Kenyatta intervened. He set up a commission of inquiry, which found Ngei innocent. It turned out that the maize was taken to Emma Stores in Kangundo, a cereal shop run by Ngei's wife Emma.
Leave my wife out of it I said! Stop victimising innocent females by association.
That is the professorial genius
of
Ojienda
lawyering up for the Kidero's. The
Paul Ngei template
. Paul Ngei developed this leave my wife out of it defence to an a ritual art form. Personally I wouldn't pay more than a manambas's daily retainer for this line of Ojienda presentation or submission before The

Camel. It is cheap banditry on the cheap! Unless one has no memory.
www.nation.co.ke/news/Kidero-wife-sues-EACC-for-linking-her-to-husband-probe/-/1056/3152738/-/j3u420z/-/index.html
NB: It is not that I do not have Kenyan examples that I keep on at the (Nigerian) Oga end, it is just that for Kenyan examples I may be emotionally involved and be clouded by anger or nationalist supersitition. It is easier to use a far example to show how ridiculous some mental expenditures are, and yet how universal.
--Of course the same line of (Ojienda thought) has been fronted by no less than
200 Nigerian lawyers attending the arrested former securocrats!
–--LEAVE MY WIFE OUT OF IT!
Continued
Nyanza dialogue!