Post by jakaswanga on Mar 25, 2015 20:27:45 GMT 3
€UROZONE GREATS JOIN CHINA-LED BANK: WHAT'SUP?
www.reuters.com/article/2015/03/17/europe-asia-bank-idUSL3N0WJ1IU20150317
@ a starting capital of
$50 bn
, the freshly-launched and China-led
ASIAN Infrastructure Investment
Bank (AIIB), cuts a peanuts slice. $50 billion is small change compared to the operating capital of the
WorldBank
, or even the long-standing
ADB.
(A FOR Asian
development bank
, not African.)
--But a journey of 1000 km begins with but a single step, is a saying from that old realm of Confucius. Therefore the
geopolitical consensus
is, this marks a
tectonic shift
. That shift is even more remarkable when the list of notables who have booked seats at the front row is scanned. And, who, no prices for guessing, is scowling from the outside, across the peril-filled oceans.
France, Germany, Italy and the yankee poodle of a
United Kingdom
have already signed in. Without much ado. And Washington is aghast. That is right,
Obama's empire is smelling the coffee: even you,
Britain!? cried Ceasar once!
New Zealand was the first in;
Australia
and
South Korea
are negotiating.
Formalities
. So, I have been desperately looking for news from the continent of Africa, if at all the ADB
(African Development Bank)
amidst other countries, have decided to beat the
March 31st open application deadline
. This
AII Bank
spots the
exclusive name Asian,
but there is something in it which seems to read:
GLOBAL
. (Just like even as the 'W' before the Bank and the 'I' before the MF reported world and international respectively, there was never any doubt they were WESTERN TOOLS. As Chinua Achebe said about Chineke the bird, men have learnt to write lies, so I learnt to read between the lines.
The USA has refused all proposals to reform the World Bank to conform to China's new prowess. So the real world moves on without the USA.
Here is Washington's recorded misgivings.
BERLIN/WASHINGTON, March 17 (Reuters) - The United States urged countries on Tuesday to think twice about signing up to a new China-led Asian development bank that Washington sees as a rival to the World Bank, after Germany, France and Italy followed Britain in saying they would join.
So the greats of the EU who on a normal day will profess a joint economic destiny with the USA are not so sure about that position anymore? Huh!? The Yankees can no longer keep their European harem inmates in check? Or what?
More about that later.
Meanwhile, as I have gathered, the membership of this China-led bank is
internationally open to all
, so I will be amazed if
Henry Rotich
has not proposed an emergency debate in the LEGICO to seek public, representative endorsement or rejection of an application.
Given his/our total reliance on China to fund his/our grandiose infrastructural projects, the son of Jomo would be a goat not to join, meseems, even for tokenism after that apartheid restaurant in Nairobi
. Unless Nairobi is beholden to Breton woods --seeing the frequency with which
IMF perfume Cristin Lagarde
suffocates the city in the sun. May be she gave Rotich orders on where to stay away from,
even as her own country knows which side the butter is
. Orders a neo-colonial elite destitute in mission can not disobey, even for self-interest.
Right now, the United States dominates the global financial system.

But after years of endless wars, spying, debt, money printing, bailouts, and insane regulations, the rest of the world has had enough. And they are looking for an alternative.

China is coming up with an answer.

The soon-to-be-live Chinese International Payment System (CIPS) will provide a way for banks to transfer funds to one another without having to use the US banking system or the US dollar.

China is also the ringleader behind both the BRICS development bank (called the New Development Bank, or NDB) as well as the Asia Infrastructure Investment Bank (AIIB).
Both of these are multilateral development banks that aim to end the dominance of the western-controlled World Bank and IMF.
Some will have heard of SWIFT
en.wikipedia.org/wiki/Society_for_Worldwide_Interbank_Financial_Telecommunication
.
The majority of international interbank messages use the SWIFT network. As of September 2010, SWIFT linked more than 9,000 financial institutions in 209 countries and territories, who were exchanging an average of over 15 million messages[4] per day (compared to an average of 2.4 million daily messages in 1995).[5] SWIFT transports financial messages in a highly secure way but does not hold accounts for its members and does not perform any form of clearing or settlement.
The following quote from the economist, should set things in perspective. Why an alternative CHINESE international Payment system, while SWIFT is in place? Why discover the wheel twice?
The answer will be terrifyingly obvious.
IN 1973 global finance saw a back-room revolution when a group of banks formed a co-operative to offer those moving money across borders a slick alternative to the clunky old telex. Today the electronic financial-messaging system of the Society for Worldwide Interbank Financial Telecommunication (SWIFT) transmits more than 5 billion bank-to-bank messages each year.

In 2013 it oiled the transfer of trillions of dollars globally by the 10,500 banks, asset managers and firms that are its members. SWIFT does not initiate transfers, hold customers money, or clear or settle payments. Rather, it provides a template that helps international transfers flow smoothly and be tracked.
history says, such a goose laying golden eggs should be cherished. Partisan politics and cheek should be kept out of it. But man will be man. And in his hands, creating conflict the best option. History shows us how we are. And so true to form, the powerful started to manipulate stuff to their parochial interests.
Listen carefully to
the economist.
Without SWIFT, global trade and investment would be slower, costlier and less reliable. But the networks very usefulness means it is increasingly being cast in a new role, as a tool of international sanctions. In 2012 it was obliged, under European law, to cut off access for Iranian banks that had been subjected to sanctions by the European Union. Now there are calls for Russian banks to be banned from SWIFT in response to Russia's invasion of Ukraine.
Yes, the USA has hijacked SWIFT and turned it into a tool of PUNISHING those to the empire's dislike.
That is the death-knell on its monopoly.
--Excluding Russia from SWIFT while Russia is the biggest trading partner of Germany, and quite huge with France, Italy and in fact all of them, is from the Eurozone's viewpoint, insanity. And, furthermore, rising powers can not be expected to sit around waiting for their trade and payment deals to go through at the whims of Washington.
And therefore in the same breath, China and the usual suspects are working out on an alternative WORLD RESERIVE CURRENCY, to rival or replace the dollar on the international scene.
China, and Russia's subscription to the dollar hegemony, is not subject to renewal.
That is a very dangerous step for the dare devils, considering the fates of
Saddam Hussein
and
Moamar Gaddafi
. These guys had quit pricing their oil in dollars. For the powerless of the earth, that is a death sentence.
But Lo, Russia and China are no Libya and Iraq. Putin and Xi-Jinpin, no Saddam and Khadaffi. The empire is well-matched. She may have an $18 trillion run-away dollar GDP --cumulatively ;)dwarfing China and Russia,
but the USA has a black-hole of a debt to service, and financing that debt in the long-term is impossible.
That is what a rising chorus of thoughtful consensus amongst economists broadcasts.
The
prudent
Northern Europeans, with all their pensions and all invested in the USA economy, thinking of the US-initiated Banking crisis from which Europe has not recovered a decade later, feel the need to
diversify their risks
. Kind of betting on two horses just incase. Hmmm.
That is why they are disobeying Washington and accepting the outstretched hand of the rising dragon
. Perhaps it will breath fire soon, and it will pay to be under her wings? At least partially.
Another risk is
that using SWIFT in this
way could lead to the creation of a rival. Russia's central bank is pre-emptively working to develop an alternative network; China has also shown
interest in shifting the world's financial centre of gravity eastward
. Earlier this year it co-founded a BRICS development bank with Russia, India, China and South Africa, and its UnionPay service, set up in 2002, has loosened the stranglehold of MasterCard and Visa on card payments.
If China and other countries that feared being subjected to future Western sanctions joined the Russian venture, it might become an alternative to SWIFT and one less concerned with preventing money laundering and the financing of terrorism.
Methinks president Barrack Obama's historical mission
was to be skilful General in retreat.
That is gently manoeuvre the USA into a world where she has to accept multipolarity, and sensibly live with it.
But Barrack has lost the plot
. He has gone on the
offensive against Russia, against China, and against all else, as he seeks to assert US hegemony at every turn.
He and his country are out to defeat an emerging multi-polar world. He has become the chaos man, and if
Hilary Clinton
or
Jeb Bush
follow in his footpath, there will even be more of a mess as things speed toward a climax: war.
Today, determined to stay the top dog by all means, confusion has become US foreign policy. The Middle East, I would say, being the most outrageous explication of the USA's bewilderment in a new world. Take
John Kerry's
zigzags on
Assad's Syria.
his games are bereft even of common sense. And we wont talk about the US congress writing unauthorised, threatening backhanded letters to Iranian leaders.
There is the traditional selling points of USA philosophy: freedom and democracy. Well, these can not be associated with American policy in the middle east at all. This small matter called Palestine in the mix. Wedded to Israel until death separate them, and Israel welded to expansionist, racist and colonial Zionism, the Palestinian Israeli quagmire will need a separate resolution template than US-led clown-esque mediations. And on the Ukraine, a man named Breedlove has forced even the ever diplomatic Merkel to loose her temper. --More about that later.
THE SILK ROAD: A EURASIA UMBILICAL REVIVED.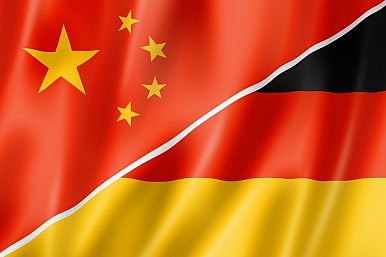 A new 'silk road' linking Germany and China
Published: 30 Mar 2014
One of the world's longest railways - a "modern-day silk road" - covers some 11,000 kilometres en route from the Chinese megacity of Chongqing to Duisburg, a key commercial hub in western Germany. It's an industrial marvel lauded by both nations
www.thelocal.de/20140330/the-new-silk-road-linking-germany-and-china
With this kind of scale, how sensible does it look for the USA to urge Germany not to sign up for a Chinese investment bank? then there is the half-a-trillion-euros-costing
gas pipeline
in the pipeline from Russia to China, and China has formally invited German companies to the feast!
And the German economy is slowing down, and it is the only motor left to pull the EU jaggernaut! --So Angela Merkel, Obama's best foreign friend, did not mince words when Obama called to dissuade her from joining the Asian Investment Infrastructure development bank.
''Barrack dear, you are being irrational and silly. Stop it!'
Let me decode that some more, because it is still minced words: 'Barrack, if i were not a woman used to messaging male egos, I would outrightly call you a truly dumb n-i-gger! stupid you disgusts me!'
(the german language has some interesting puns I tell you!)
Continued. OUR IRRATIONAL AMERICAN FRIENDS: Top NATO commander general Breedlove angers Berlin.