Post by jakaswanga on May 17, 2018 21:06:29 GMT 3
SOME OBSERVATIONS ON KENYA'S PALESTINA POLICY: DENYING THE NAKBA
In Jerusalem as the moved US embassy was being launched, there was champagne and caviar and all else of which Kenyan representatives partook with delight. Howbeit less than 50km away, the Israeli Defence force mowed down protesting Palestinians in Gaza.
It was a massacre, 50 plus dead. It was also about the NAKBA commemoration. South Africa withdrew their ambassador from Israel in disgust.
A very poignant symbolism, humans with a fresh memory of how life on the lower end of an apartheid state tastes like!
Most of Europe's diplomats stayed away from the Jerusalem bash too. The middle east is a European backyard, and passions there are already inflamed enough. But the republic of Kenya made a different choice, just like our lower neighbour, Tz; and further afield, Rwanda. Rwanda's is a government which accepts pay to traffic African refugees deported from Israel. Purely business I suppose. The profit motive.
To explain the
delicacies
of Kenya's
official
position, I suppose we could call on Lady
Monicah Juma
, she of foreign affairs. But I hesitate. Like
Omamo Reycho
at defence, I am afraid my thinking is Monicah too is just another
flower girl
. She is an ornamental exhibit, no less than her predecessor,
Bi Amina
, now wholy illiterate at education. Yes, no more than I think
Cecil Kariuki
should be called to book on the latest
NYS scam,
do I think Monicah would know anything about why
New York Macharia
sleeps on some voting days, and attends which parties when he is supposed to be sick or away!
www.nation.co.ke/news/1056-855588-iiqv2qz/index.html
NB: Between them, Treasury
Harvadman Rotich
and Yaleman
Patrick CBK Njoroge
can sort out for us the details of the NYS scams on the double. But if such brains are on Omerta on any scam, be it Eurobond or NYS,
IFMIS
or computer errors in budgetary software, I don't see the point of going through the motions, holding up hairdressers groaning under the weight of suitcases filled with top denomination currency, busy filling up canters!
No, I do not behave like Mumo
Matemu,
Aaron
Ringera
, Philip
Kinisu
, PLO, nor Clergyman
Wabukala
who, all they do, is make phoney busy trying to fry small fish, to deflect from the cheap shots their compromised hearts compel them to! No, I have never lost my temper at slay queens enjoying Kingly bounty from Homa Bay county, and I wont start now at the national level!
But Kenya surely is a vassal state living dangerously. She takes money from Beijin for her daily up-keep, but obeys Washington around town like a dog. This is the moment to ponder the fates of men like
Ababu Namwamba
, he of foreign affairs! Only yesterday, Namwamba was a billed YOUNG TURK and the hope of the party, county and country. He was a General, a man of gravitas with the youth.
But today he knows not what an apartheid state is, nor what a massacre is, perpetrated upon a colonised people
!
Pesa na cheo zimepiga kichwa knock
, young turk amekuwa dead turk.
–--Picture the great Ababu cuddling a glass of champagne in Jerusalem, engaging in small talk with Ivanka Trump during the ceremony. May be he quoted MBS to her on the Palestinian issue, that they have a joint laugh.
Saudi Crown Prince Mohammed bin Salman said that Palestinians should either accept peace proposals or "shut up," Israeli media reported.

"For the past 40 years, the Palestinian leadership has missed opportunities again and again, and rejected all the offers it was given," the Crown Prince said. "It's about time that the Palestinians accept the offers, and agree to come to the negotiating table — or they should shut up and stop complaining."
He also said that the subject of Palestinian is not currently on top of the government in Riyadh's agenda.
"There are much more urgent and more important issues to deal with — such as Iran," he added.
Salman made the remarks while on a trip to New York last month where he met with several Jewish leaders.
Ababy the ex young Turk no longer quotes Abraham Lincoln! No time for adult talk no more
AHED TAMIMI RED CARDS THE OCCUPATION!
Gets solitary confinement in Israeli jail!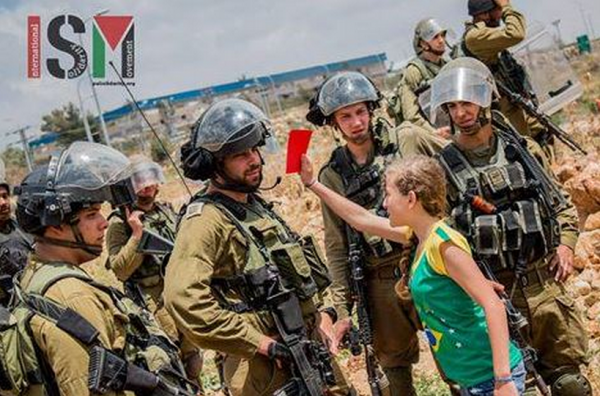 Eh, Namwamba, I thought about you sipping champagne in Jerusalem, with all the good people and cheer as John Lennon would sing!
And I thought to myself, like Louis Armstrong, what a wonderful world! O yeee!