Post by jakaswanga on Jan 28, 2018 14:57:56 GMT 3
SOLOMON'S LAST CALL: ONE REPUBLIC TWO PRESIDENTS, OR TWO REPUBLICS two?
THE 2ND
UHURUTO CABINET AND THE CHANTS
OF DEATH AT NASA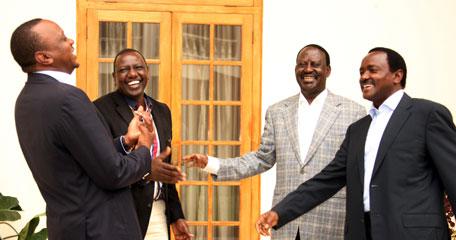 how much longer? the double game?
Uhuru Muigai Kenyatta --and to a lesser extent William Ruto-- has now completed his cabinet. A bluff is called. No room for NASA. It has been a
mild
reshuffle. In addition to coding its political bankruptcy, the musical chair dance shows the nervousness of the elite. Both between the duo in power themselves, Uhuruto, and between power and the others out in the cold, NASA. Every sacked fellow has been given a soft-landing. Kaimenyi Jacob, formerly of lands, Cleopa Mailu, formerly of health, go ambassadorial. So do the two ladies
Wakhungu
and
Kandie
. When one is taken care of like that after total failure, Mailu, one wont be complaining.
The most interesting face of the stalemate between URP and TNA has been the creation of the
Chief Secretary
position. This is where the
electoral-loser likes
of Namwamba have been rewarded. And then there are the bastards, or as we say, the Two Luos without portfolios! Tuju and Obura. I am sure there is something in the pipeline for the former devolution man, Kinyanjui, who was prevailed upon to forego his Laikipia ambitions for governor. In the same vein, Rege and Otuoma must be patient. The nevous state has many crumbs for good dogs. Can't afford too many strays now, with Raila mopping up in rear-guard action! Patience!
Nor have the Kenyans been fooled, but have seen through the gimmick straightaway: the return of the assistant ministers. Public Wage Bill my bloated feet. It has been Politics First, class interests asserting its primacy over what, otherwise, would be the common sense of financial prudence. Aint always the economy stupid, which brings rule down?
We can't be too hard on Uhuruto. Even the Othaya don and best of the KANU GENERATION lot, Mwai Kibaki, after making a political mess by letting rig the 2007 GE for him, instituted a cabinet of +44 ministers, the assistant ministers even more, two per ministry! It was a moronism, an economic nightmare and bureaucratic stupidity not worthy of an econs don worth his salt, but it was the price to be paid for the social implosion which had sucked in Koffi Annan as the imported shaman. Mwai Kibaki's mental meltdown had impacted a terrific crisis upon the land, and a monstrously wasteful, elephantine cabinet of everybody, was the blood-soaked bandage.
Thats why I always chide
Mwai Kibaki as the Othaya drunk.
If he hadn't drunkenly let shoot himself in the foot, his decade plus in power would have been positively legendary. I ever relive the magic of Kibaki's first one-year of (post-Moi) dynamism with Raila Odinga. There was an exceptional mood in the country. Unleashed was boundless positive energy pulpable, a psychological high, even the optimism of a moral rejuvenation hung thick in the air. Traffic cops refrained from roadside bribes. Truck and PSV drivers voluntarily kept to safety modes.
And, believe it or nor, Mumbi and Omera fornicated openly at Juja, and deeper in the other slums where both economic and social apartheid was the rule, the colourful rainbow arrived.
Would, it were sustained for even five years! I would have embedded the sense in the young visions can be concretised, by serious work, by positive action, intelligent pro-people rule. (Now all your young girls want to be are variations of prostitutes, sometimes called a shisha-diva, sometimes called sponcy, sometimes called slay-queen! Work is for losers! and honesty if sighted, mere atavism!)
Howbeit the electrifying bolt of progressiveness was but a mirage.
Backward courtiers quickly stole into Kibaki's drink-lazed mind. They calculatedly fed him more poisonous drink, rendered him captive, turned him but a handmaid of the Cartels of looting and, overwhelmed by tribal KANU recidivism, the Great Hope and his regime imploded into a messy heap of negligent debauchery.
It was a total surrender by one of Wanjiku's bestes, during one of our most hopeful periods of recent times. And along with it, Raila was consumed with depression and mutated from a once lovely spouse into a wife from hell. Kenya was a gonna! A she-devil to her young.
The Uhuruto (she-devil) regime was always a continuation of the
mental degeneration of Mwai Kibaki
. Its sloganised digital dynamism was just a glistening death-mask on a corpse. Our rotten elite.
For instances: Two failed elections in one month, that is morgue-dead, a morgue-dead elite.
I am sure many Kenyans have not bothered to think just how insanely stupid it is what Wafula Chebukati did. There is incompetence, and then there are realms of incompetence where one has to consider a psychiatric indisposition. –-But then, may be one has to have 'wuothod and nenod' –--travelled and seen whats cooking in the next village, to have no time for the charade of modernity running in Nairobi. (Thika super highway, Eastern Bypass, Tatu silicon valley!)
Really, by 1940, it no longer needed two taps to convey hot and cold water separately in any building.
The same tap could be turned otherwise, clock or anti, to dictate temperature choice
. A
small step for engineers, a giant leap for slum dwellers
! Today, 2018, take a walk through the republic of the Kenya Slum, most of
Nairobi
(sh!thole duelling) does not have even a single tap, and if so, not a drop of water of any sort eveer comes through, leave alone treated and at design temperatures. No, not even the croaking of pressurised air which denotes but a temporary drought. So, 2018, walking from Huruma to Dandora, sometimes along the dark waters of the sh!tty river, how am I suppose to explain the insanity of the water shortage in Nairobi? (manual
water delivery cartels
holding the people hostage for profit!?)
Mesays its is administrative incompetence at the ranks of psychiatry!
And how about, 2017,
the dumping of human excreta at Jacaranda grounds in the middle of an estate to prevent an opposition rally?
Mesays it is malice at the ranks of psychiatry!
And those high-rise flats
coming down with tenants
in pipeline, huruma and wherever?
Mesays its construction negligence at the realms of psychiatry!
And how about the switching off of emergency response channels wherefore
Al-Shabaab could wipe out El-Adde
?
Mesays negligence at the ranks of insanity!
How come a
significant portion of the intelligentsia expect business to go on as usual
, the issue of legitimacy swept away, after two successive farcical elections? There you have your proverbial ostrich! Keeping up appearances.
DEVELOPMENT

Speaking on Sunday at a church service in Buru Buru, Nairobi, Mr Ruto said the election period is over and the government is now focussing on development.

"The people had decided on their leaders during the elections and that's a closed chapter," he said.

The DP said the government would serve all Kenyans, including those who did not vote for Jubilee to bring development," Mr Ruto said.
The bureaucracy in toto has lost the power to be rational. Decisions are made without thinking. Which means they are not decisions as such, but mere biological functions without cognitive mediation. You know, like a mad man will defecate and masturbate at the centre of the market in broad daylight, a satisfactory grin on his face. His horror-show plays to his instincts of enjoying attention, publicity and stardom,
but insults as it simultaneously entertains and mocks our sense of morality!
Yeah! This
complexity
is the Uhuruto regime. And by the Uhuruto regime, I mean the whole (crystallised KANU) social complex which also rules in the NASA gubernatorates. –--Psychiatry should be considered in addition to political economy! Or how else will I explain the arson of the finance and accounts office at HOMA BAY, my home county!?
I say it is psychiatric, and represents the final rock-bottom of the Mwai Kibaki degeneration.
(The purest form of KANU ideology,
crystallised afar half a century of supremacist filtration!)
There is a Luo saying: '
Janeko oyieng', koro owacho wawang'uru dero!
' –--it translates roughly to: when the mad are well fed, they solicit for burning down the granary!'
Mesays
destroying accounting records
is like burning down a library, or, these days, erasing the Internet archives. Da-mn, that it should happen first in Luoland! Da-mn, that it be in Homa Bay, the county boasting the birthplace of the legendary
Tom Mboya
! Small wonder
Jarusinga Ndiege
, Tom's father, fled fishy Homa Bay for the wage slavery and labour of the sisal plantations of Thika!
(Wage slavery under colonial capitalism as relative progress in comparison to aristocratic feudal peonage of the peasantry)
NB: The burning down of the PUBLIC accounting office in Homa Bay by the ODM bureaucracy, has traumatised me, same way the
Ptolemaic arson
of the Library at Alexandria, back in them Cleopatra's final days, did many a literate Egyptian. How do I propose to deal with this trauma? Do I fly away from the backwaters like young Ndiege did? Swim away –--like millions of young Africans are now doing, and dying at sea in desperate dingys---- to try wider horizons elsewhere, where the production equation is really capitalist, and labour still a factor of production?
No, I think I stay. I support and help inflate Baba's and Kalonzo's equally desperate dingy. Take a stand on Tuesday, and if I survive, take another stand on Wednesday:
DEATH TO EVERY THIEVING GOVERNOR IN LUO NYANZA!
DEATH TO EVERY THIEVING MCA! DEATH TO EVERY THIEF IN LUO NYANZA,
ZERO TOLERANCE TO EVERY KIND OF FINANCIAL MALFEASANCE IN LUO NYANZA!
EVEN SCHOOL HEADS WHO SWINDLE SCHOOL CASH, DEATH TO THEM!
(EMBEZZLEMENT OF PUBLIC RESOURCES IS WORSE THAN TERRORISM FROM SOMALIA!)
And this I declare the
Kavirondo model
, to be exported to the other NASA fiefdoms loyal to Baba and Kalo, Muda and Weta. And later, Jubilee territory!
And if
Baba does not underwrite this zero tolerance to theft
, nor swear so publicly this is his moral battle cry in his last charge in combat, on Thursday if I survive Wednesday: I take a stand and : SAY DEATH TO BABA! –-zero tolerance to charlatans too!
I am game.
There is no room for two thieves as presidents of Kenya. One thief is more than enough. There is no room for two thieves as commanders in chief of the armed forces. One thief is more than enough. Uhuru Kenyatta! And as for him and his rigging entourage,
Redman Ngatia
has already judged there is only one agenda in town: HANGING HIM AT UHURU PARK before 2022.
An option is he can become a full-fledged dictator to prevent that of course. Al-Sisi model.
Who is your daddy now!? Tuesday is night! Ides.