Post by job on Jan 5, 2011 10:09:32 GMT 3
PART I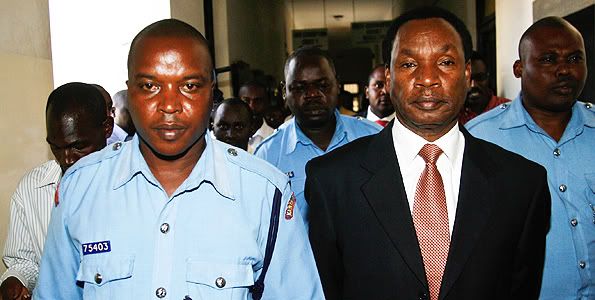 Henry Kosgey, hands behind in handcuffs, wading through court corridors
From the perspective I want to lay out, I don't for a moment like this Daily Nation front-page photo. For the record – I do not hold brief for Henry Kosgey, neither do I condone corruption. However, I think this so called war against corruption is nothing but a farce controlled from afar.


That today Anglo-Fleecers, Goldenberg, Triton, Ken Ren, Grand Regency, irregular privatizations, and budget typo architects are walking scot free while we pretend to be catching the corrupt is the biggest fairy tale ever told in Kenya. This is a buch of phoney balogni! In my view, PLO Lumumba is not directing the war against graft, his in-tray is fed from two background sources, the US Embassy, and Kibaki succession plotters.The veiled reality is that by Kosgey citing 'public interest' while liberally exercising duty exemption powers granted to him, he was purportedly hurting real or perceived American interests. That is what Kosgey is being victimized and crushed for here.
PNU-affiliated ministers coming before him,
Mukhisa Kituyi,
and later
Amos Kimunya
exercised the same godarn exemption and it was all cool and dandy, with no allegations of abuse of office, and no trips in handcuffs.
The only difference here is in the bigger number Kosgey exempted. But Kosgey will likely argue his case in court proving that all waivers he issued were in 'public interest'.
Don't you sometimes wonder whose public interest is more important in Kenya - the Kenyan interest or the American interest? Kosgey's apparent persecution betrays the obvious answer.
Revelations from Wikileaks cables
To understand where Henry Kosgey's problems began (probably both the ICC & importation-waiver case) we need to focus on the Wikileaks cables. Thanks to
Michael Ranneberger's cables to Washington,
we know he is very busy shoving down the throat of Kenyans, the
Washington Consensus
camouflaged as
'the reform agenda'
– which most locals often confuse with their own interpretations of the same phrase. The reform agenda uttered by locals is as different as day and night, from that being pushed by the US.
For instance, if locals want government to provide its citizens with basic services in health and education, America wants all services to be privatized. That makes it possible for US corporations and entrepreneurs to have a shot at taking over and running these sectors.
America sees Kenya's emerging middle class as a fertile market for their products, it's oil and mineral exploration prospects are mouth watering, and its on-going privatization of telecommunications, railways, ports, highways, airlines, banks, sugar companies, mining companies, oil refinery and infrastructure etc – are not being transferred into the hands of Americans as desired by Washington.
In short, Washington wants a young 'inexperienced' puppet at State House to convert Kenya into a US client state. Kibaki has been doing too much business with the East, notably China and also with Libyans, Iranians etc (feared to be sponsors of 'terrorism' towards the US). Raila's globetrotting missions to European capitals, starting with London, and basically everywhere else he can be listened to (from Shanghai to Mumbai to Tehran to Rio De Janeiro) makes the US feel more likely to be a jilted peripheral ally (& not 'the principal' ally) were the PM to occupy State House. Washington
is somehow convinced it can
politically engineer Kenya
into its list of
exclusive client states.
As per
Ranneberger's
Wikileaks aspirations, the route to achieving that lies in the
triumvirate of Kenya's youth, a caucus of young MPs and the civil society
. Ranneberger prescribes in his cables, the need for the US to
"empower a new generation of youthful leaders
"- youth who are particularly mesmerized by, and beholden to, America. He proudly announced in the cables - "we recently launched a $45 million youth empowerment initiative".
I will not rehash my previous expositions about the
OTNOP
'youth movement' of black-tee-shirt clad youth campaigning in
Bomachoge, Shinyalu, etc
– where they suffered terrible political losses.
Ranneberger also talks of "extensive outreach to civil society, religious groups, the media, and the private sector". True, USAID has poured lot of American taxpayer dollars into an exclusive club of sophisticated rent-seeking NGOs run predominantly by a small privileged class of youthful Kenyans. He has successfully penetrated editorial newsrooms of major media outlets like the Daily Nation. These people are helping him attempt the transformation of Kenya into a US client state.