Post by jakaswanga on Apr 9, 2019 19:48:42 GMT 3
THE USA NEEDS A BIG WAR SOON, IS RUSSIA GAME?
If smart moves were the staple of world-class politicians, the world wouldn't be such a mess, neither would history be that bloody.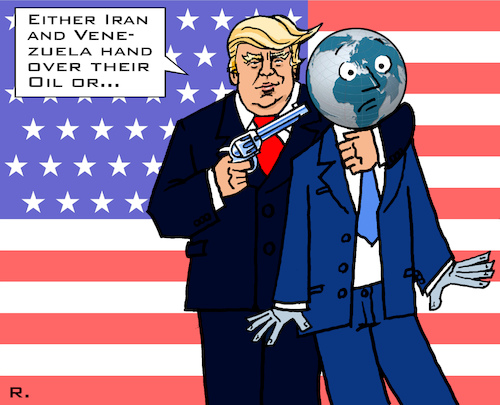 We will come to Soviet Admiral
Vasili Arkhipov
later. And we shall muse at his exploit during the
Cuban Missile crisis
, when
JFKennedy
and
Nikita Khrushchev
went for it,
Mundu-khu-Mundu
, or Mano-a-Mano.
But First, we trace a few co-ordinates plotting a trajectory which, to all ends, will be bad. The administration of Donald Trump is really pushing it. There is something manic in it. Consider: Trump has now to all practical purposes,
outlawed Iran
. ###
Secretary Kerry posed with his fellow E.U., P5+1, and Iranian counterparts at the Austria Centre in Vienna, Austria, on July 14, 2015, before the formal announcement of the agreement concluding the Iranian nuclear negotiations
1.
FLASH POINT CRIMEA
But before that, there was a regime change engineered in the Ukraine to the detriment of Russia, and an attempt to incorporate the Baltic states into NATO. That is sticking it to Putin.
Recently, the failed tate Ukraine attempted to sail warships into the sea of Azov in total disregard of existing protocol. They were promptly thwarted by the Russian navy. The United States declared their ships will escort the Ukrainians next tim around. That is playing with fire. A very big one.
In Syria, there was the death of Lieutenant
General Valery Asapov
. ISIS, they said, showed on that day an unusually and remarkable accuracy in rocketry. They killed a Russian General and two colonels. Other word was it was payback by the Americans, since Lieutenant General Asipov had been deployed to the East of Ukraine, Donetsk, and had put paid to Poroshenko's military drive to re-incorporate Novorussia.
2. RUSSIANS IN VENEZUELA
Russia recently sent a plane load of
military personnel and computer specialists
to deworm the Venezuela dam systems. The national grid there has been repeatedly hit by a
STUXNET-like computer attack
. (Some will remember when the Iranian --nuclear--- centrifuges were hit and spun out of control.
Stuxnet, which is widely believed to have been developed by the United States and Israel, was discovered in 2010 after it was used to attack a uranium enrichment facility at Natanz, Iran. It was the first publicly known example of a virus being used to attack industrial machinery.

SAN FRANCISCO (Reuters) - Researchers at Symantec Corp have uncovered a version of the Stuxnet computer virus that was used to attack Iran's nuclear program in November 2007, two years earlier than previously thought.
)
Anyway, as if ordering an orderly out of sight, the USA ordered Russian out of Venezuela! This is my yard, dog, keep off!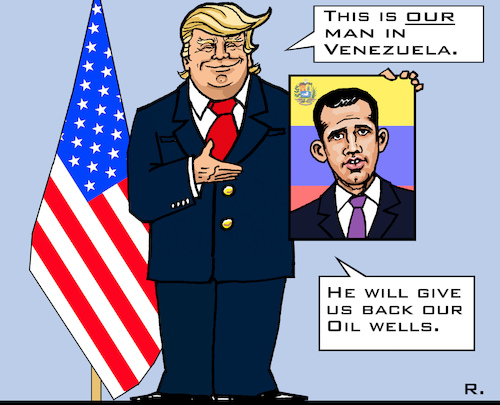 Trump actually gave Putin the order as he sat with
Fabiana Rosales Guaido
at the white house
Trump answered a reporter's question about Russia's actions in Venezuela as he stood next to Fabiana Rosales, the wife of opposition leader Juan Guaidó. Rosales came to Washington to drum up support for her husband, who declared himself Venezuela's interim president in late January.
Putin only offered a smirk back at Trump. It was left to foreign affairs minister
Sergei Lavrov
to spill words on it.
3. TRADE WAR WITH CHINA, NO DEAL WITH NORTH KOREA
Just as he was set to meet
Xi Jinpin,
the USA ordered Canada to detain a top
Huawei executive
. Just as he was about to meet North
Korea's Kim in Vietnam
, the CIA raided the North Korean offices in Spain, tied up the North Korean residents and stole stuff! KABOOM the sunshine smiles between North and South.
4. WITHDRAWAL FROM THE INF TREATY
In February we had this
Donald Trump has confirmed that the US is leaving the Intermediate-range Nuclear Forces (INF) treaty, saying "we will move forward with developing our own military response options" to Russia's suspect missile.
In a written statement, Trump said that the US would be suspending its compliance with the 1987 treaty on Saturday, and would serve formal notice that it would withdraw altogether in six months.

5. And then there has been, to date, the botched attempt in
Venezuela to topple Maduro
. The man the Vice President of the USA has appointed to replace Maduro, is the puppet Guaido, and he has been given control of up to $31 billion confiscated from Venezuela's oil operations in the USA.
Some of that money belongs to Russia and China.
6.
TEARING UP THE JCPOA
In May 2018, Donald Trump withdrew from the
Iranian Nuclear deal
painfully negotiated by the Obama administration.
The Joint Comprehensive Plan of Action (JCPOA) is a detailed, 159-page agreement with five annexes reached by Iran and the P5+1 (China France, Germany, Russia, the United Kingdom, and the United States) on July 14, 2015. The nuclear deal was endorsed by UN Security Council Resolution 2231, adopted on July 20, 2015.
Trump trashed it all.
###FANNING THE FLAMES FURTHERE IN THE MIDDLE EAST
In the middle East, after gifting the occupied
Golan Heights
to the occupier, Israel, on of top earlier provocations like moving the US embassy to Jerusalem, Donald Trump now lights a fuse.
"The Islamic Republic of Iran's government is required to use its legal, political and diplomatic capacities to decrease to the least use of the regional countries' facilities, equipment, financial resources and other possible assistance to the US forces and other terrorist forces, mentioned in the bill," it added.

The bill stressed that the Iranian government is also required to use all its power to nullify the US measure to designate Iran's official military force as a terrorist group through bilateral and multilateral interactions with countries and consultations with international organizations and institutions.

The United States on Monday designated the IRGC as a "foreign terrorist organization", marking the first time Washington has formally labelled another country's military a "terrorist group".

Responding to Washington's move, Iran immediately declared the US as "state sponsor of terrorism" and American forces in the region "terrorist groups".
A thought occurred to me and I grinned a bit: fancy
Ababu Namwamba
and
Monicah Juma
explaining Kenya's position on this spat! You know Kenya is the chief exporter of tea to the IRGC!
Here is what I had in mind
U.S. sanctions imposed to punish Iran are harming Kenya tea growers and exporters.
Iran is an important trading partner, paying good prices for large orders of Kenya's tea. When a previous round of sanctions was lifted in 2016 exports surged and profits rose for traders supplying CTC (cut, tear, curl) to Iran's 80 million tea drinkers.

Last week the Kenya Tea Development Agency (KTDA) said earnings are down 17 percent due in part to financial restrictions reinstated in November 2018.
The inability for the two countries to trade in dollars led to a surplus greater than the local export market can absorb, KTDA officials told Business Daily.

Iran is the world's fifth largest tea importer, purchasing $280 million from Kenya last year. About 20 percent of Iran's 88,000 metric tons of tea imports are from Kenya with Sri Lanka, India, and China supplying the rest.
Hey, Nairobi, anybody home!?
Not everything is Ruto-Raila!