Post by jakaswanga on Aug 3, 2019 13:52:02 GMT 3
THE KIBRA KEN OKOTH SEND-OFF DEBATES:
THE
POLITICS OF THE HOLY WEED, MPANGO LOVES AND ILLIGITIMATE OFFSPRING!
First a perspective; where we are as a national effort, money-management wise. The following backdrop is from
David Ndii
. Dr. Ndii the former NASA chief economist, and peoples shadow minister for finance. Of course Raila's embrace of corruption through the Handshake has seen Ndii
banished
to Siberia, so to speak. See footnote on the ideological depths of the word
'banned'
, when full light is shone.
NDII: The biggest ticket item here is the SGR railway which cost KSh 350 billion. The remaining KSh 2.15 trillion works out to KSh 45 billion worth of development projects per county.
The money available to county governments over the same period would have enabled expenditure on average of KSh 6 billion on development projects.

In effect, we should be seeing six times more national government development projects in each county as county government ones.

We now know for sure that there were no dams built. This mindless plunder is replicated in virtually every sector.
The budget records show KSh 280 billion on power transmission lines, enough for 6,000 kilometres of 400 Kv lines ...but Information posted by KETRACO, the agency responsible for building them, shows only 2800 km of lines under construction, whose total cost is KSh 100 billion.
We are talking KSh 180 billion missing, an amount, of the same order of magnitude as the Eurobond money that the Auditor General could not find.

Makueni county built a 200-bed Mother and Child hospital for a princely sum of Ksh. 135m.

Kibra MP Ken Okoth built and equipped a girl's secondary school that's been all the rage for Ksh. 48m.

A hospital like Makueni's in every county is KSh 6.4 billion; a girls school like Kibra's in every
constituency, KSh 14 billion.
Both combined add up to just over KSh 20 billion - about the money that has already been spent on the ghost dam projects.
If a national government has spent KSh 45 billion per county on development projects these two projects would not be the talk of the country.
There, Kibra Ken Okoth. Learnt a thing or two in Austria or Australia, on matters to do with prudence with public funds. But the thing is, if one looks from a Jubilee to ODM governor, and from ODM books to Jubilee book-keeping, and from the kith of the Peoples to the kin of the duly elected's, back and forth and back again across the political divide, one can not fail to note the similarity at the end of ANIMAL FARM: impossible to tell the difference. This is why occasions to do with men like Ken Okoth and Kibutha Kibwana, generate so much flocking of the dirty-feathered birds. They hope to be rinsed some.
NB: Yesterday I was rounding on the new
Rotich and Thugge,
Ukur Yattani and
Julius Muia
. I couldn't help noticing neither of the newbies has PUBLICLY TRASHED those calculations by David Ndii. No, not even Patrick Njoroge has dared. Then I become very Chineke the bird nervous. The Handshake and its billed fight on corruption is FAKE. If it aint fake then this is priority
The budget records show KSh 280 billion on power transmission lines, enough for 6,000 kilometres of 400 Kv lines ...but Information posted by KETRACO, the agency responsible for building them, shows only 2800 km of lines under construction, whose total cost is KSh 100 billion.

We are talking KSh 180 billion missing, an amount, of the same order of magnitude as the Eurobond money that the Auditor General could not find.
Ukur
Yattani,
Julius
Muia
, you have a different set of calculations!? showing it is
Ouko math
and
Ndii math
not adding up!
That silence is how I know Ukur and Muia are Rotich and Thugge. I look at the books x5 a day, like pious Muslims pray, or, in this case the Swiss in their money-obsessed alpine alcove! ---
wewe nani, Patrick Njoroge, sioni pale ile ndururu ya change ya mandazi ya Breakfast ya Ruto ime andikua, tafadhali rudia hesabu; na zile kobole tatu zilibaki baada ya kununua three turbines ya Itare dam ambazo hazifanyi, andika kwa main ledger pia, both in IFMIS and paper!!
Do you know
why we Swedes don't complain when our international aid to Africa is reported stolen?
I was once asked by a sexy Swedish thing. 'No, my tummy churned in advance, 'do pray tell!' She blew me a kiss:
'if you leave a sack of dollars near a pen of sheep, and the sheep break out, tear the sack open and chew the green bucks to death, are you going to show temper at the beasts as if they were your equals, thinking like you do!?'
---There are moments I cheat myself Africa has panel-beaten my mind to shockproof. Then something like that happens and I melt to a babysh temper. The girl jumped back. And fled. She later told me my face had become a contortion of primordial venom and murder. Well, time has passed and I no longer spot a temper. On the contrary, I have adopted the Swedish superiority complex toward top African bureaucrats. If Njoroge and Rotich are, between them, Yale and Harvard distinctions econs,
but can not oversee a mere $2bn Eurobond in use
, why waste tempers loosing?
sheep will be sheep, no!? Columbia or Stanford, still sheep!
munching green bucks to death instead of building a dam!
(NDII AND MIGUNA) BANISHMENT
When the system of apartheid was implemented in South Africa in 1948, certain laws had to be put in place to maintain white domination in all aspects of South African society.

Apart from the legislation implemented to ensure the separation of different racial groups, such as the Prohibition of Mixed Marriages Act (1949) and the Group Areas Act (1950), laws such as the Suppression of Communism Act (1950), and the Riotous Assembly Act (1927) were enforced to deal with resistance against the apartheid government through a system of banning.

A banned person was restricted to his/her home and could not be seen with more than one person at a time. Living under banning orders also meant that one could not be quoted, and therefore could neither speak publicly nor write for an audience.

By 1966, 936 people in South Africa had been banned, with 467 listed as communists under the Suppression of Communism Act, 515 banned under the Suppression of Communism and Riotous Assembly Acts and 3 banned under the Riotous Assemblies Act. An additional 49 names are listed as both communists and banned persons.
Between 1950 and 1990, more than 2000 people were banned in South Africa and labelled as terrorists, communists or perceived by the apartheid government as a threat to public security. The ban on anti-apartheid activists was finally lifted in 1990.
One could also deduce,
Miguna Miguna
has also been banned, modern style. That is, culturally speaking, and therefore politically obvious, The Handshake is a
suppression effort
on the peoples resistance. The deduction can be reached by a careful analysis of these WHYS: why has
1. The Handshake has come out vehemently against the Ekuru-sponsored referendum initiative,
PUNDA IMECHOKA
2. Is Miguna Miguna deported to Nyando, but, court orders, this Nyando in Canada!
3. Is Ndii in --so to speak--- Siberia, and
(3b) a host of the then highly, mentally virile NASA thinkers, now become silent or domesticated subwoofers of the Handshake tones. There has had to be a purge. Yeah,
Raila Odinga the
peoples president
comes with quite a
radical
entourage. To co-opt him into the establishment to underwrite the (ancien regime) status quo, Tinga has to shed off ballast, he has to pimp himself up! Like that process snakes undergo, called
ROCH
in dholuo.
HOT POTATO KEN OKOTH
KEN OKOTH was a wild one. A rebel with a cause. The ODM party tried to canonise him as a holy artefact of the party. Full of opportunism, the establishment tried to usurp, monopolise and cheaply ride on his popularity pull, only for the bones to stick in their throat. Because to fit the tall and wild Ken Okoth into the miniature party agenda, was always going to be the public act of a tabloid fool, or, better, scandalous public entertainment.
1. Kibra Ken Okoth was an
avowed activist for the legalisation of that thing
. ---Here is the celebrative song about it by the genius
LEE SCRATCH PERRY
.
2. Kibra Ken Okoth was, like
Bob Colymore
, a
CREMATION man
. --Your culture is burials you think!? Go on but leave Ken Okoth out of it. He left a contrary will of his own mind. Cynical Luo elders and their hired narratives, manipulatively pandering to political patrons subsidising their conservative antiquity, to hell with you! Please busy yourselves with the plight of our fishermen and the question of Migingo. Seek audience with Buganda elders to bring preace, or the Banyankole who bore Msebeni if you wish. Okoth left a will: cremation. But it must be noted this will to cremation has spooked everybody who thought they were close to Ken.
Anne added that she only learnt of the internment plans in the media and accused the family of settling for a cremation to destroy the evidence of her son's link to Okoth.

"Ken did not sire any child. I know many women will come out to claim they have at least a child with Ken," Angeline Ajwang Ongere said.
Ms Ongere also said she is opposed to the idea of her son being cremated. Anne is a nominated MCA in Nairobi.
Okoth has left in his will to be cremated.
3. Ken Okoth, like most of us
juggling the culturally sanctioned drive to masculine promiscuity against the one-man-one-wife Christian foolhardiness, which has been colonially enshrined as civilisation in the constitution
, had a bumper extramarital love-life; and there was nothing secret about it. His only begotten son known so far,
Jayden
, with the beauty Queen Anita, is actually named after him, OKOTH! And the no-push-over mother of young Okoth
Anne Muthoni N'Thumbi.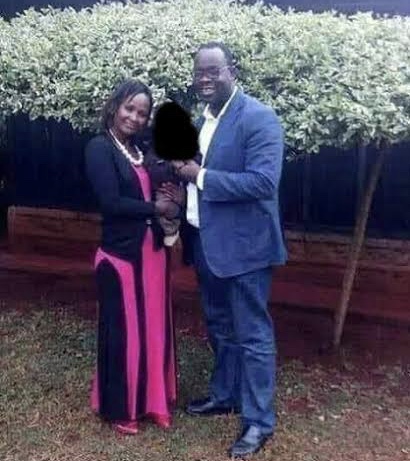 (she) Wasn't really a
clande
. Even
Eduard Sifuna
knew long ago, for all his duplicituous last-minute turn-around. Because it was one of those high-five stories: how much rank Okoth pulled to have the mother of his baby-son nominated!
SONKO: Ken will not forgive me if I don't save the situation. Ken fell in love with a nurse called Anita from Sonko rescue team. In 2017, he asked me to help him nominate his second wife to the county assembly and out of respect I did nominate her." Sonko at Ken Okoth's memorial service
It didn't smell of corruption, it was corruption, called nepotism, but Sonko knew that was the middle name of ODM those days, --- scroll down to see
Wafula Buke's
beef with his colleagues then.
All the drama came out after his passing because some of the relatives were denying the nominated MCA and her son the chance to pay their last respect to Ken Okoth.

in 2013, Ken Okoth wanted to be the Member of Parliament for Kibra, which he had served in various ways as a community mobilizer. At around the same time, a young woman named Anne Muthoni Thumbi was taking her nursing steps at Aga Khan University Hospital in Nairobi.

She was in her early 20s when she first met the towering Okoth at the hospital.
There was recently a lot of commotion at the former Orange House, about high party officials who nominated their girlfriends or mpango's or former business partners to the Nairobi assembly.
Here is a hint
from behind the scenes
BUKE:
Buke, in a rare attack of the party's top leadership, singled out Ong'wen, Pareno and [deputy treasurer Ogla] Karan.The ex-political detainee also demanded that both Pareno and Ong'wen withdraw their membership from the committee.

Buke accused Ong'wen of blatantly ignoring Raila's directive to have the party hold directors' meeting in 2017 and "instead made a decision single-handedly leading to staffing the party's list with names of close relatives and friends".




He claimed Ong'wen nominated his wife and nephew as MCAs at the expense of loyal party members.The nomination list, he said, was intentionally submitted at the last minute leaving the party with no chance to effect any adjustments.

"How the hell do you get your wife and her nephew nominated as MCAs and still have the courage to face party members and then do recommendations on how to resolve the problems you have caused?" the party director of strategy asked.
And Mike Sonko, in the thick of it for Ken's mpango, didn't mince his words neither. Ken Okoth pulled ranked ---in the army we used to say jingle the trigger----- to have his Anne nominated.
These others were all supposed to be a secret in death. The totality of Kibra Ken Okoth's life was a picture too dark for the propaganda purposes of the party, the model family and wife, and the rest of the con artists whose profit is to hide the truth!
Ken won the seat in March 2013. And he used his newly acquired political connections to have Anne nominated as a member of the Nairobi County Assembly. From then on, the love affair between the two politicians blossomed. After some time they had a beautiful baby boy and they named him Jayden Baraka Okoth.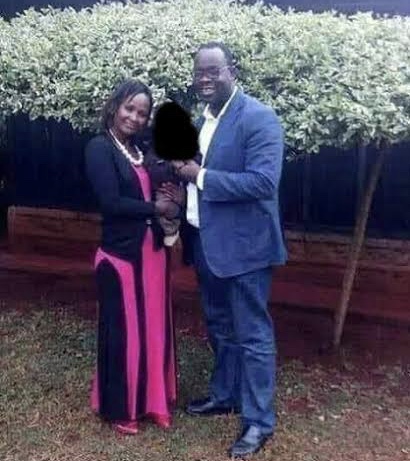 Ken took the fatherly role immediately and he even introduced him to the family and especially to the mother.
Talking to a media house, Anne said she is confident to have a paternity test taken.
Even with the Okoth-Muthoni ------ALL KIBRA NAIROBI slums famous---- lovefest an open secret to nearly all their family members, some still connived to keep Muthoni and her baby-boy away from the funeral arrangements of Big Daddy, Ken Okoth. Shetani people kabisa! Worse, some die-hard Luo conservatives with their sensitivities stepped on, are on record grumbling: 'to ang'o ma rach gi Nyi-Luo, yaye Omera, chiegi achiel Nyarachar, machielo to Okuyo!' ---What is wrong with Luo-Girls, Okoth Yo, that, that side you marry a White, this side a Mumbi!
ALL HAIL MBUVI SONKO!
Mike Mbuvi Sonko is a highly gifted man. He is a politician who can empathise genuinely. He does not need the cynical make-believe fakery, nor the calculated propaganda tears of the hardened professional politicians, the big men whose every word at a funeral is a crocodile's emotion, thinking of the famous scene the reptile shed tears! So Mike Mbuvi Sonko was not about to ignore Ken Okoth's (only?) son! At least the only one he knew. And to boot, a boy at whose genesis he stood. For the mother, Anne Muthoni Thumbi, had been on his team, The Sonko Rescue. (hind sight, they seem to have rescued Okoth from childlessness! I said HAIL, Mbuvi Sonko!)
No, neither was the rescue-man about to join the GREAT POLITICAL OMERTA at the coffin side, where Ken Okoth's heartthrob and mother of his only known inheritor, was non-existent! ---Yawa! Consider some two old words with terrible emotional rings: Illegitimate (legal connotation), bas-tard (social ostracisation), both as denunciation or excommunication strategy, especially where social or material wealth is concerned. So did they seek to malign
Tshaka Tzulu
from his destiny. And so too did his brothers gang up on Joseph, to kill him off outright, or better, sell him as a slave to Egypt for corn or wheat! --This is the scene in Genesis 37 scene in which Reuben
when he heard this, Reuben tried to rescue him from their hands. "Let's not take his life," he said
I see Sonko doing a Reuben on Ken Okoth's son. May he Jayden grow up into a Joseph! (of the Tom Mboya kind!)
People like me don't bother with the Church I tell you. But we know our Bible. Studied it like we did Shakespeare for the exams.--'yesu nowacho, kik uriemb nyithindo, to gibi ira ku!' And Jesus said: don't thee chase away the children, but let them come to me!
And all these scum chased away Okoth's boy, and only Sonko had the audacity to say, come Jayden Okoth, come grieve thy father! ---Mbuvi Sonko, I said HAIL! HAIL MBUVI SONKO!
NB: for illegitimate, Kimirwa is the translation in old Luo conservative Lingo, which is the imagery Raila Odinga, at the behest of his brother Oburu, invoked in Siaya to ostracise the then sure-win gubernatorial candidate William Oduol. It so happened Oduol's blessings had been stolen by the popular party and bequeathed upon the Royal Cousin, Cornel Rasanga, but Oduol was still set to do what the Ugenyaman (Ugunja Mpig David Ochieng') recently pulled on the party choice, Chris Karan.
Ugenya MP-elect David Ochieng has revealed that politicians allied to the Orange Democratic Movement (ODM) played a role in his victory in the by-election held on Friday.
Ochieng faced off with ODM's Chris Karan in the race, and managed to beat the latter who was enjoying the support of the party leadership and most area leaders who are allied to the party..
But speaking on Citizen TV Monday night, Ochieng claimed that some unnamed ODM Members of Parliament lent him a hand against one of their own.
It was a do or die for the family, Oburu claimed, and that is when the most horrid denunciations had to be unearthed to defeat the political career of William Oduol. And
Oburu Odinga
is of course the petty land thief of a railway plot in Kisumu.
(NB: he says it is too miniature to be talked about as theft, considering Ruaraka and Ruto's Weston Lang'ata Hotel grab! Others retort Muizi ni Muizi, aibe billioni, aibe ata yai moja ya kuku mbofu!
This debate on the proportionality of theft, we carry out later: should a serial killer get an equivalent serial consecutive life sentences where a one-time murderer gets only one life sentence!?).
NEXT: THIS MAN SONKO, THE TRUE GAURDIAN OF KEN OKOTH'S HERITAGE